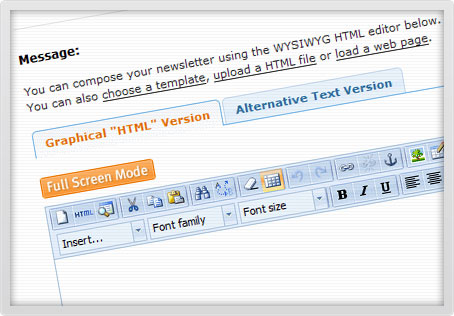 No CC, no BCC, no "undisclosed recipients"
Everyone gets their own copy - they can't see who else is receiving the same e-mail
Email Newsletter Builder
Create stunning e-mails as easily as you create various publications in MS Publisher
Built-in Editor
An easy & convenient editor to create an e-mail from scratch or from one of the built-in templates
Upload your own HTML files
Created an e-mail in DreamWeaver or even Word? Upload your file and we'll send it for you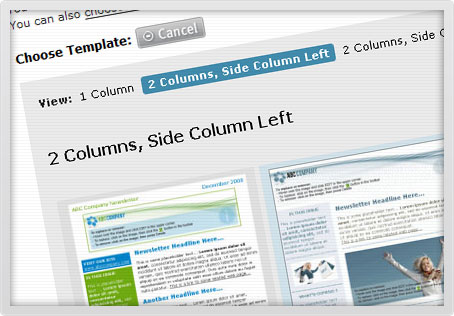 Template gallery with 30 sample lay-outs
Jump-start your e-mail using one of the professionally designed templates
Send Plain Text Newsletters
In a hurry? Type your subject and message & your text e-mail is ready
Sender addresses library
Create your sender addresses library & pick a sender when creating a new e-mail
Personalize newsletters with "mail merge"
Address your contacts by their first name
Schedule e-mails for a later date and time
Have your e-mail delivered right away or program a future delivery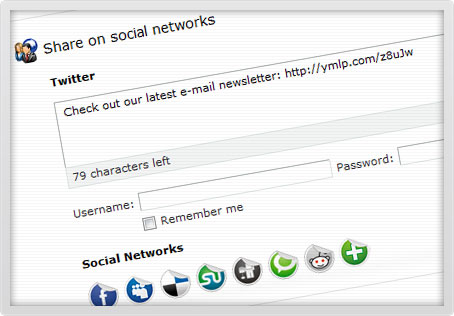 Social Media Integration
Tweet, Facebook,... your e-mails with a single click and insert a "Share" widget into your e-mails
Include Attachments
No problems adding that report or PDF-brochure
Forward to a Friend
Add a "forward" link to have your contacts spread the news virally to their peers
Test Messages
Send a test to yourself before sending it to your audience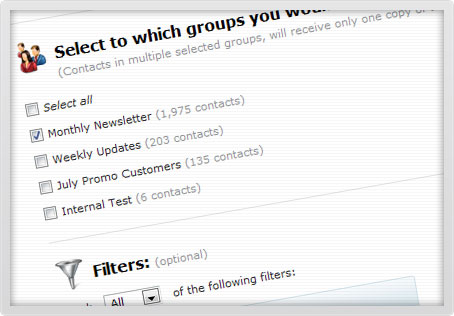 Send targeted e-mails using filters
Apply filters to target a specific segment of your list
Drafts
Don't lose your work - save it for later
Re-use previous e-mails
Don't make more work for yourself - re-use a previous e-mail
Unlimited Image Hosting
Just upload your images and we'll do the rest
Embedded Images
Images visible right away - no "click here to download images"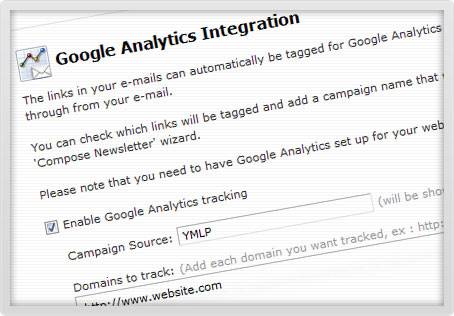 Google Analytics Integration
Have your links automatically tagged for Google Analytics
Send in any language
Send e-mails in English, French, Norwegian, Arabic, Russian, Hebrew, Chinese and many more languages
API automation
Send e-mails directly from your own website or application.